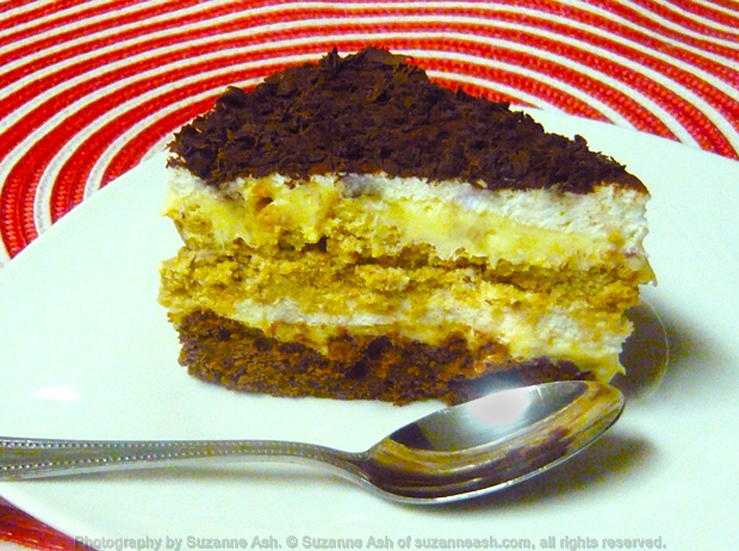 Tiramisu is one of my favorite desserts, but I rarely ever make it. The Italian ladyfinger cookies, mascarpone cheese, and other ingredients to make it are about $20 or more, so it gets relegated to the special occasion/schmancy dinner party category. Making a smaller less fancy version of the dessert using Neufchatel cheese, fewer cookies, and stabilized whip cream makes my any day version more of a Tiramasortof. It's definitely not traditional, and it's about as schmancy as banana pudding, but it's still absolutely delicious and no raw eggs!
Tiramasortof
If you love tiramisu
You will love it too
As I was finishing up my intro, I realized with a few small adjustments to the last few lines of the text it would make a haiku. A Tiramisu haiku! How could I waste a Tiramisu haiku? Obviously I couldn't!
Ingredients
3 egg yolks
1/2c of sugar
1/3c milk
1 tsp unflavored gelatin granules (Knox)
1c heavy cream
1/4c powdered sugar
1/2 tsp vanilla extract
8 oz Neufchatel cheese
1/2c strong coffee, cooled
1/4c TBSP brandy
24 ladyfinger cookies
2 TBSP unsweetened cocoa powder (not drink mix)
shaved dark chocolate (optional)
IMPORTANT! This should be made 24 hours before you want to serve it. See notes after the recipe.
Instructions
⇒ Stir the coffee and brandy together in a large measuring jug or bowl, leave at room temperature.
⇒ Set out an 8″ springform or loose bottom cake pan.
⇒ Set out the Neufchatel cheese to soften at room temperature while you make the custard.
Custard
⇒ Whisk together the egg yolks, sugar & milk in a 2-quart saucepan, then set over medium heat. Bring the mixture to a boil, whisking constantly. Once boiling, cook and whisk for 1 minute longer, then remove from the heat. Whisk in the Neufchatel cheese until you have a smooth mixture. It helps to whisk a bit, rest for 20 seconds and then whisk some more so the cheese has time to melt a little. Set the custard aside at room temperature while you prepare the whipped cream.
Stabilized Whipped Cream
⇒ Add the whipping cream to a mixing bowl, then take out 2 tablespoons and put it in a small microwaveable bowl. Whisk in the gelatin and let it stand for a few minutes. Once the gelatin is dissolved, place it in the microwave and heat on full power for 15 to 20 seconds, or until the gelatin is melted completely. You may need to whisk it while it's hot to help it along, just be sure it's lump free! Leave to cool while you whip the cream. Meanwhile, whip the cream until soft peaks form, then continue to whip adding the powdered sugar a little at a time. When the cream is at the stiff peaks stage, beat in the vanilla and the gelatin mixture. Set aside at room temperature, ready for assembly.
Assembly
⇒ Dip half the cookies (one at a time) in the coffee mixture and then break them over the base of the cake tin. Aim to make a layer so all of the base is covered, but the cookies are still messy and jagged looking. Spoon over a few extra tablespoons of the coffee mixture if there are any dry spots, but be careful not to over soak or make the base soggy. Spoon half the custard over the cookies and level it, then spoon half the whipped cream mixture over and level it smooth. Repeat each of the layers using the second half of the cookies, mascarpone mixture and whipped cream. Cover tightly with plastic wrap and refrigerate for at least 24 hours.
To Serve
⇒ Peel off the plastic wrap and dust the cake with cocoa powder and shaved dark chocolate (if using). Remove the collar of the cake pan, then place the cake on a serving plate. Cut into 8 wedges. For best results, slice with a sharp knife dipped in hot water and wiped clean after each cut.
Makes 8 Servings (Or one big one, but you must eat it with a giant spoon)
Notes
In the picture, I've used half vanilla and half chocolate lady fingers, but all vanilla or all chocolate is great too.
Dip the cookies as you go, don't "presoak" them or they'll just turn to mush. You want to leave a little dryness to them so they absorb some of the custard's moisture too.
You could make this early in the day, then chill it for at least 6 hours. Overnight is better for flavor and texture, but 6 hours will be enough to unmold and slice it.