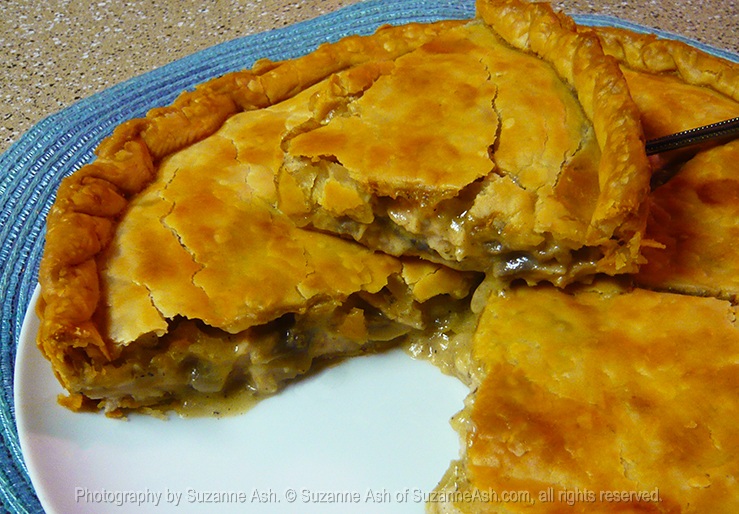 I actually bought a small turkey breast and baked it specifically to make this pie, and I often bake chicken breasts specifically to make this pie. Although, I also like to make it with leftover chicken or turkey. So, I thought it would be a good recipe to share for Thanksgiving leftovers, you can also use up any leftover Thanksgiving mashed potatoes and veggies by serving them on the side.
Ingredients
Prepared 9″ double pie crust (top & bottom)
1/2 cup chicken stock
1/2 cup milk
3 TBSP butter
1/2 cup diced onion
1/2 tsp fine sea salt
1 tsp fresh minced garlic
1/2 lb mushrooms, sliced
1/4 cup dry vermouth (substitute white wine or water)
3 TBSP all-purpose flour
1/2 tsp fresh ground black pepper
1/2 tsp fine sea salt
1/2 tsp rubbed sage
1/4 tsp dry thyme
2 cups cooked turkey or chicken, chopped or shredded
1 TBSP of milk
Mashed potatoes & cooked Vegetables for serving (optional)
Instructions
Whisk together the stock and milk, set aside at room temperature until needed.
In a large pot (I use a 5-quart dutch oven) melt the butter over medium-high heat. Add the onion and sprinkle over the salt. Sautee the onion for 5 minutes, or until soft and translucent. Add the garlic and mushrooms. Continue to cook, stirring frequently, until the mushrooms begin to give up their juices.
Stir in the vermouth and cook for 1 minutes. Stir in the flour, and continue to cook and stir for 1 minute. Then, trickle in the milk mixture while stirring constantly. Continue to cook and stir the mixture until it boils. Keep stirring constantly and let it boil for one minute.
Remove the mixture from the heat and stir in the salt, pepper, sage, thyme, and turkey. Set aside to cool for 15 minutes, stirring occasionally.
Meanwhile, preheat your oven to 400f, and line your pie pan or tart pan (see notes) with the bottom layer of crust. Pour the filling  into your prepared pie crust and smooth it out the best you can.
Brust the edges of the crust with milk, then add the top crust. Crimp the edges of the crust to seal them, and cut several slits in the top for the pie to vent. Brush the top of the pie crust with the remaining milk.
Bake in the lower 1/3 of the preheated oven for 40 minutes, or until the crust is golden brown and the filling is bubbling hot. Cool on a rack in the pan for 10 minutes before slicing. If using a tart pan, remove from the pan to a serving plate.
Slice and serve, with mashed potatoes & vegetables on the side.
Makes One 9 Inch Pie / Approximately 6 Servings
Notes
I like to make it in a tart pan because I like being able to remove the whole pie before slicing it. However, this recipe works just fine in a traditional pie pan.