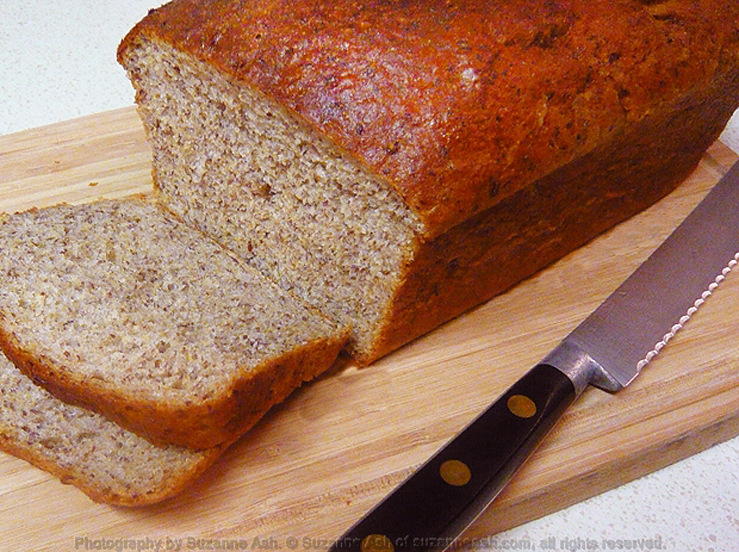 I LOVE this bread! It's just so soft and tastes like a really expensive bakery bought bread, plus it's pretty healthy as far as breads go. Oh, and if you were expecting a long drawn out how to make bread recipe, I am sorry to disappoint you! When I make bread I cba to deal with all that kneading so I just toss all the ingredients into the pan of my bread maker and let it do all the work. However, I don't care for the shape of the bread or how hard the crust is if I let the bread maker actually cook the bread, so I do the second proving and baking myself… hey, it still counts as homemade!
Ingredients
1 1/3c/335g warm water (100f/37c)
2 TBSP/25g canola
3 TBSP/60g honey
2 scant tsp/8g kosher salt
1 1/2c/225g unbleached all-purpose flour
1 1/3c/170 whole wheat flour
1/2c/55g ground flax seed
2 tsp/7g instant yeast
1 TBSP/14g butter or margarine (optional)
Instructions
Place all ingredients into your bread maker in the order suggested by the manufacturer.
Set it on the dough cycle and let it do its thing.
When the dough cycle ends, dump the dough out directly into a loaf pan (I use a 9x4x4″),
Flatten the dough gently so that it is one even layer. The dough will be soft, sticky and spongy so use a little oil on your hand if you find it sticks.
Place the loaf pan inside a large plastic bag and blow air into the bag so the dough won't touch it when it rises.
Place the bag covered dough onto a large plate or cutting board.
Place the covered loaf in a warm draft free place for 30 to 40 minutes, or until it is about an inch above the top of the loaf pan (I use my water heater closet but a warm kitchen will do).
About 20 minutes into the loaf rising, preheat the oven to 350f/180c.
When the loaf has risen, bake in the middle of the preheated oven for 30 minutes.
Remove from the pan immediately and place on a wire cooling rack, rub the top and sides lightly with the butter or margarine if you want a soft crust.
Leave to cool to room temperature before slicing.
Makes 1 Loaf – 12 to 14 Slices
Notes
The loaf above and the loaf below are not the same loaf. The above loaf had cooled and I sliced it, the crust was dull looking but lovely and soft. The loaf below is fresh from the oven and I had just rubbed it with butter so it's nice and shiny.