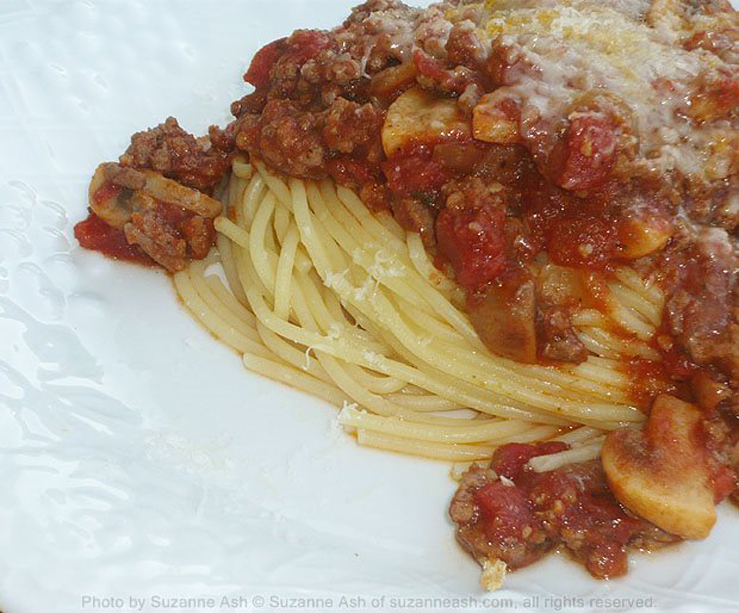 I've found that a lot of jarred sauces contain ridiculous amounts of sugar and salt, this is my compromise. It's not an all day laborious slow cooked sauce and it's not straight from a jar either. I like being able to control the amount of salt and I personally don't add any sugar but if you are someone that likes their sauce a little sweet, check out the Notes.
Ingredients
16 oz/455g ground/minced beef
Drizzle (or two) of Olive oil
1 large yellow onion, cut into a medium dice
1 TBSP finely diced garlic
8oz/250g sliced mushrooms
4oz/125ml red wine (optional – see Notes)
2 x 16 oz/455g canned diced tomatoes in juice
1 x 16 oz/455g can tomato sauce
1 generous tsp Italian seasonings
1 generous tsp Oregano
A few dashes of Worcestershire Sauce
Salt & Pepper to taste
16 oz/455g spaghetti noodles, cooked according to the package directions
Freshly grated Parmesan cheese to serve (optional)
Instructions
Heat a large heavy pot over medium-high heat.
Add the beef, stirring and breaking it up as it cooks. When nearly all of the pink has been cooked out of the beef pour it out into a strainer and leave to drain.
Add a drizzle of olive oil, the onions and the garlic to the pot.
When the onions start to soften, add the mushrooms.
Fry the mushrooms just until they start to give up their juices.
Stir the beef into the onions and mushrooms and then add the wine, bring to a simmer.
Add the canned tomatoes with their juice, the tomato sauce, the Italian seasonings, the oregano, the Worcester sauce and season with salt & pepper.
Stir well and bring to a boil, turn down till just simmering.
Simmer with the lid on for half an hour. Stir well before serving.
Serve with spaghetti noodles and plenty of Parmesan cheese grated over.
Makes 6 Servings
Notes
I used to make this for someone who loved sweet sauce, I omitted the wine and added in (I know this sounds crazy) 1/2 cup grape jelly! I've heard rumors that this is how a well-known chain of Italian restaurants makes their marinara, but I don't have any first-hand knowledge of it.
You could substitute the red wine for 4oz/125ml water, it won't taste as good but it will still be a nice fresh sauce.
Why do I drain the beef? Because it's healthier, less fat goes in the sauce and the sauce doesn't taste greasy. You can leave the fat in if you like!
If you don't have Worcester Sauce you can substitute Soy Sauce… yup really.