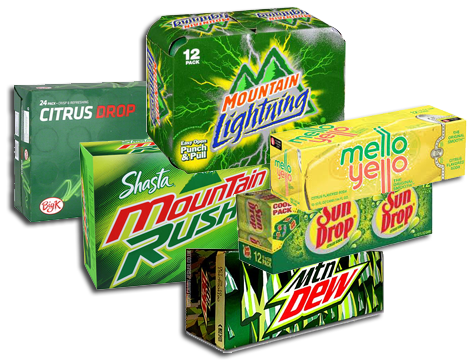 My favorite soda is that freaky neon green radioactive looking stuff. Of course the original is Mountain Dew, but there are so many copycats these days.
When I moved to the UK there was nothing like it available in regular stores and I  couldn't bring myself to pay $5 a can via the importers so I weaned myself off the stuff.
Now that I am back in the US it is pretty much the only soda I drink on a regular basis. When I first moved I was drinking loads of it but I've slowed to a reasonable amount. I would like to drink more but I limit myself to one (or less) a day… so I probably drink about 5 a week. This is for health as well as economic reasons. Yeah, that crap is expensive and bad for you!
Over the last year and a half I've sampled as many copycats as I could find. Surprisingly the original is not my favorite. I still like the original but as much as I hate to admit it,  Walmart's Mountain Lightning is the one I like best. Below are my notes, my review/notes are for can versions only.
In order of MY personal preference –
1. Mountain Lightning – produced by Walmart
I think it has just the right amount of sweetness, carbonation and citrus flavor.
2. Mountain Dew- produced by Pepsi
I find the citrus flavor a bit weak and it is very close to being too sweet.
3. Citrus Drop – produced by Kroger
Kind of like Mountain Dew and 7-Up mixed together.
4. Sun Drop – produced by Dr Pepper Snapple Group
I wouldn't refuse to drink it if that is all there was but I would not buy it.
5. Mello Yellow- produced by Coca-Cola
I think this stuff is terrible, I'd rather drink nothing.
6. Mountain Rush – produced by Shasta
I think it might be made from cat piss. I'd rather die of thirst.