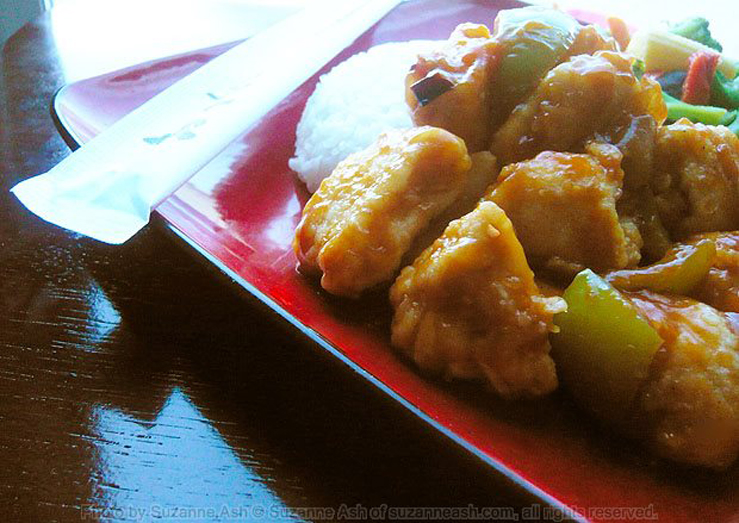 I've always liked traditional Sweet & Sour Pork but there are things about it I don't like. I am not a fan of cherries and pineapple chunks, or under cooked crunchy vegetables mixed into it. I also find that sometimes the meat is rubbery or tastes a little wild. So, I give you my very own version of a not overly sweet, Sweet & Sour dish. It might not be for everyone but I like it!
Ingredients
2 TBSP corn starch mixed with 2 TBSP water
1 TBSP dark soy sauce
1/4c/50g brown sugar
1 tsp onion powder (optional)
1 TBSP tomato paste
1/4c/60ml cider vinegar
1c/240ml pineapple juice
1 large yellow onion, chopped into 1/2″ pieces
1 large green bell pepper, chopped into 1/2″ pieces
Oil for frying
1/2c/75g plain all-purpose white flour
1/2c/75g cornstarch (EU Corn Flour)
1 tsp salt
1/2 tsp white pepper
1 egg, well beaten
4 large skinless/boneless chicken breasts, cut into 3/4″ chunks
Oil for frying
Instructions
Mix up the 2 TBSP corn starch mixed with 2 TBSP water for the sauce and set it aside.
Put all the other sauce ingredients into a saucepan and bring to a boil.
As soon as the sauce starts to boil, remove the pan from the heat and whisk in the corn starch and water mixture.
Put the sauce back on the heat, whisking constantly until thickened.
Once thickened, continue to whisk over the heat for 1 minute then remove and keep warm.
Mix the flour, corn starch, salt and pepper in a bag large enough to hold all the chicken chunks.
Put the chicken chunks and beaten egg to a mixing bowl and stir gently with a slotted spoon until all the chicken chunks are evenly coated.
Leave the chicken and flour mixture to sit at room temperature while you stir fry the vegetables.
Heat a large frying pan until very hot, drizzle in a little oil and add the onions and peppers.
Stir fry the onions and peppers until they start to soften then remove them to a large heat proof bowl and keep them warm.
Add enough oil to the frying pan so that it will come just under half way up the chicken chunks when you add them. Give the oil time to heat up so that it is very hot.
Use the slotted spoon to add the chicken chunks to the flour mixture (don't just dump it all in) and discard any left over egg.
Shake the bag gently until all the chicken chunks are coated in flour, put your hand in and make sure that none are stuck together and all have been coated.
Carefully place some of the chicken chunks into the hot oil, (You may need to do this in batches). It's important not to crowd them or they will be mushy.
Cook the chicken till it starts to get golden brown, then turn it over and brown the other side. The chicken should take only just a few minutes on each side if the oil is properly heated.
Once evenly browned remove it to a kitchen paper towel lined plate and keep warm while you prepare the rest.
To assemble the dish, add the chicken to the bowl of onions and peppers. Drizzle over the sauce and then fold everything together gently.
Serve immediately – Serves 4
Notes
I find that if properly drained, a 16 ounce can of pineapple rings will yield almost exactly 1 cup of juice. I think the juice from a can of pineapples gives a nicer flavor to the sauce then drinking type juice.
You could dice up the pineapple rings and add them to the dish but since I don't like them mixed in I always make Pineapple Upside Down Cake with them… recipe will make it to my site eventually!
You can make up the sauce in advance and reheat it, you could also just make the sauce and use it as a dip.
I put the oven on the lowest temprature and store everything in it to keep it warm as I make the dish.