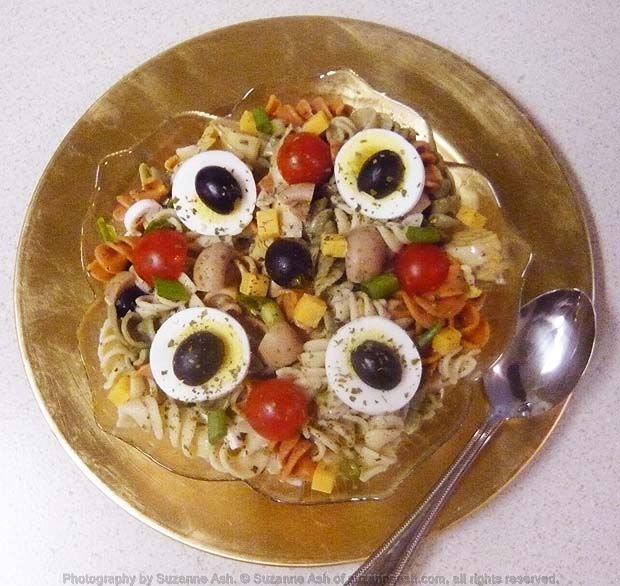 This is another salad I've been making basically the same way for 20 years. I vary the ingredients based on what I have or what I can find, but for the most part it's the exact same recipe I used the first time I made it.
Though definitely not something everyone will love (it's really tangy) I think it's a nice alternative to mayo based salads because I think it goes really well with sweet barbecued meats. Though, it's also nice as a lunchtime main dish.
Ingredients
Dressing
3 TBSP apple cider vinegar
1 TBSP white wine vinegar
2 TBSP olive oil
1 TBSP canola or vegetable oil
1 TBSP water
1/2 tsp garlic powder
1/2 tsp onion powder
1/2 tsp sugar
1 tsp dried oregano
1/2 tsp dried parsley
1/4 tsp dried thyme
1/4 tsp dried basil
1/4 tsp black pepper
3/4 tsp salt
Salad
1/2 lb. (dry weight) spiral tricolor pasta
8 cherry tomatoes, cut in half
8 marinated mushrooms, cut in half
12 large black olives, cut in half
3 green onions, green and white parts cut into 1/4 inch slices
6.5 or 8 oz. jar marinated artichoke hearts (see notes)
2 hard boiled eggs, chopped
2 oz. of sharp cheddar cheese, cut into 1/4 inch cubes
Instructions
Dressing
The day before or at least 4 hours before you are going to make the salad, put all the dressing ingredients in jar with a tight fitting lid, shake vigorously and then refrigerate until needed.
Salad
Cook pasta according to the package directions, except add 2 minutes so the pasta is slightly over cooked.
Prepare the vegetables and eggs while you cook the pasta. Put them in a large deep bowl.
Drain the pasta and then rinse it with cold water until completely cold, drain well and then add to the bowl with the veggies and chopped egg.
Use a large spoon (or two) to gently toss the salad until it is well mixed and everything is distributed evenly among the pasta.
Shake the dressing to remix and then pour it over the salad, toss gently to coat.
Spoon into serving bowl and sprinkle over a few pinches of dried parsley.
Cover tightly with plastic wrap and refrigerate for at least 8 hours, but up to 24 hours before serving.
Toss gently before serving
Makes 6 servings as a side dish and 4 servings as a light meal.
Notes
Blanched peas, marinated green beans, small cubes of cooked chicken or cooked shrimp are also nice in this salad.
You can set aside a a few of the veggies and egg slices for decorations, but it's best to put them on just before serving.
You can use 1 cup of store bought Italian dressing instead of making your own, but you're a punk ass if you do!